Lights-Out ist umgezogen http://www.green-it-software.com!
Lights-Out has moved to http://www.green-it-software.com!
English readers, please scroll down
Lights-Out wurde beste Windows Home Server Software des Jahres 2009 bei der Leserabstimmung von We Got Served!
Lights-Out – der Name ist Programm.
Das Add-In hat die Aufgabe, beim Windows Home Server die Lichter auszuschalten, also den Server in den Standby oder Ruhezustand zu versetzen und bei Bedarf wieder aufzuwecken.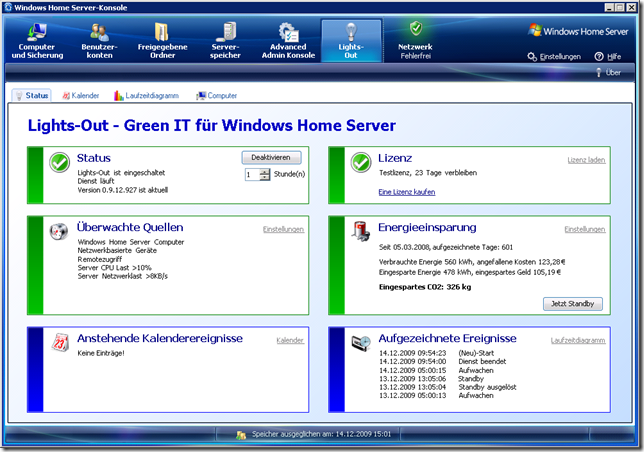 Funktionsweise
Lights-Out überwacht verschiedene Quellen auf Aktivität. Solange mindestens eine Quelle aktiv ist, bleibt der Server ebenfalls aktiv. Meldet die Überwachung keine Aktivität mehr, wird der Server deaktiviert.
Überwachbare Quellen
Laufzeiten im Kalender
Windows Home Server Computer (Clients)
Netzwerkfähige Geräte (wie Xbox, Macs, Mediaplayer, Streamingclients)
Datensicherungszeit
Fernzugriff
Prozesse auf dem Windows Home Server
Dateien auf dem Windows Home Server
CPU-Last auf dem Windows Home Server
Netzwerklast auf dem Windows Home Server
Aufwecken
Ist der Server im Standby oder Ruhezustand, kann das Aufwecken über den Kalender des Add-Ins gesteuert werden.
Ist der Server im Standby, Ruhezustand oder Heruntergefahren kann das Aufwecken über Wake-On-Lan (WOL) erfolgen. Für die Client-Computer gibt es dazu eine eigene Anwendung, die als Dienst installiert wird und den Server aufweckt sobald ein Client aktiv wird.
Weitere Funktionen
Das Add-In visualisiert die überwachten Quellen. Damit kann einfach nachvollzogen werden, wer den Server aktiv hält.
Datensicherheit
Um das Risiko von Datenverlust zu minimieren, wird der Server während einer aktiven Datensicherung, beim Bereinigen der Datensicherung oder bei Festplattenoperationen niemals ausgeschaltet. Zudem können Dienste konfiguriert werden, die vor dem Schlafen gehen gestoppt und hinterher wieder gestartet werden. Der DriveExtenderMigrator gehört immer dazu. Weitere Dienste wie z. B. Mailserver können ergänzt werden.
Weitere Screenshots
Lizenz
Lights-Out wird in 2 Varianten zur Verfügung gestellt:
als kostenfreie Community Edition
als lizenzierte Vollversion
Nach der Installation kann die Vollversion 30 Tage getestet werden, danach wird automatisch die Community Edition aktiv. Mit dem Kauf einer Lizenz wird die Vollversion aktiviert. Die Lizenzbestellung kann direkt aus Lights-Out heraus erfolgen.
Persönliche Lizenz 15.00€ + MwSt. (ungefähr 22.90US$)
Gewerbliche Lizenz 25.00€ + MwSt. (ungefähr 38.00US$)
Die Lizenz umfasst alle Updates, die für Version 1.x auf der gleichen Plattform herausgegeben werden (also von 1.0.x bis 1.9.9).
Feature Matrix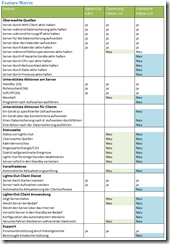 Download
http://www.green-it-software.com/lights-out/download
In Lights-Out stecken viele Stunden Arbeit, daher bitte ich alle Anwender, die mit Lights-Out Energie sparen, um einen Beitrag für die Unterstützung und Weiterentwicklung durch den Kauf einer Lizenz. Danke!
Support
In Deutsch über das Home Server Forum
In Englisch über das We Got Served Forum
In Französisch über das Forum Mon Home Server
Autor
Martin Rothschink, AxoNet Software GmbH
---
Lights-Out has moved to http://www.green-it-software.com
Lights-Out – Green IT for Windows Home Server
Lights-Out has been voted as the best Windows Home Server Software 2009 at We Got Served.
Lights-Out – The name says it all
This Add-In is used to put a Windows Home Server into suspended mode or hibernation and resume on user defined events.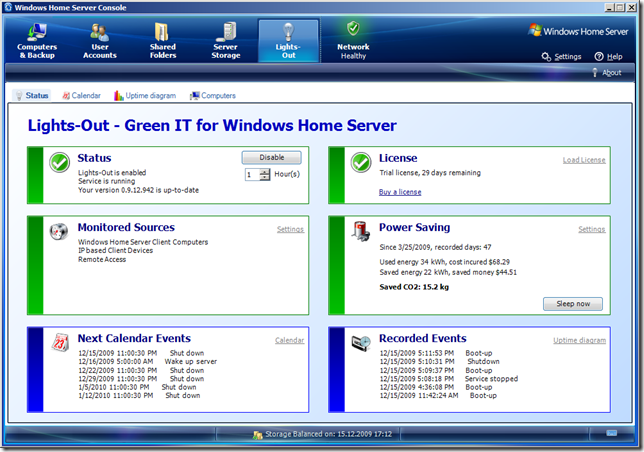 Mode of operation
Lights-Out monitors several sources for activity. As long as one source signals activity, the server is kept running. When the monitoring detects no more activity, the server is disabled.
Sources selectable for monitoring
Runtimes on calendar
Windows Home Server Computers (Clients)
Network devices (like a Mac, Xbox or streaming clients)
Backup time window
Remote access
Processes on your Windows Home Server
Files on your Windows Home Server
CPU load on your Windows Home Server
Network load on your Windows Home Server
Wake up
A suspended or hibernated server can be resumed using a calendar event. A shut down server can be activated using Wake-On-Lan (WOL). Lights-Out comes with a client application which can be used to start the server when the client boots or resumes.
Additional functionality
The Add-In visualizes the activity of the selected sources. So you can easily identify what keeps your server running.
Data integrity
To reduce the risk of data loss, the server is never put into sleep during an active backup operation, a backup cleanup or a disk operation You can define services, which are stopped on suspend and restarted after resume. The DriveExtenderMigrator always belongs to this list of services. Additional services like a mail server can be added.
More screen shots
License
Lights-Out is available in 2 editions:
a free community edition
a licensed edition
After installation you can evaluate Lights-Out for a period of 30 days. After evaluation you need either a license to get access to all features or be satisfied with the community edition.
A license can be ordered from within Lights-Out.
Personal license €15.00 + VAT
Commercial license €40.00 + VAT
A license includes all updates for the 1.x range on the same platform (from 1.0.x to 1.9.9).
Feature Matrix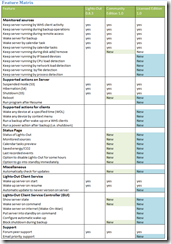 Download
http://www.green-it-software.com/lights-out/download
I've put many hours of development into Lights-Out. If you're satisfied and save energy, I ask for a contribution by paying for a license to support the future development of Lights-Out. Thanks!
Support
In German on the Home Server Forum
In English on the We Got Served Forum
In French on the Forum Mon Home Server
Author
Martin Rothschink, AxoNet Software GmbH, Germany